Canada's housing market likely to remain subdued this year but should see an uptick in 2020 as the impact of policy changes begin to ease.
Sales are expected to remain weak amid lower access to mortgages caused by rising interest rates and stress tests. However, prices will rise in 2019 following a stabilization in 2018.
Following data that revealed a sharp month-over-month drop in sales (down 9.1% in February) the Canadian Real Estate Association has updated and extended its resale market forecast for 2019 with sales expected to ease to 1.6%.
British Columbia is forecast to see the largest decrease along with Alberta while Quebec will gain along with a small rise for Ontario.
"For aspiring homebuyers being kept on the sidelines by the mortgage stress-test, it's a bitter pill to swallow when policy makers say the policy is working as intended," said CREA president Barb Sukkau.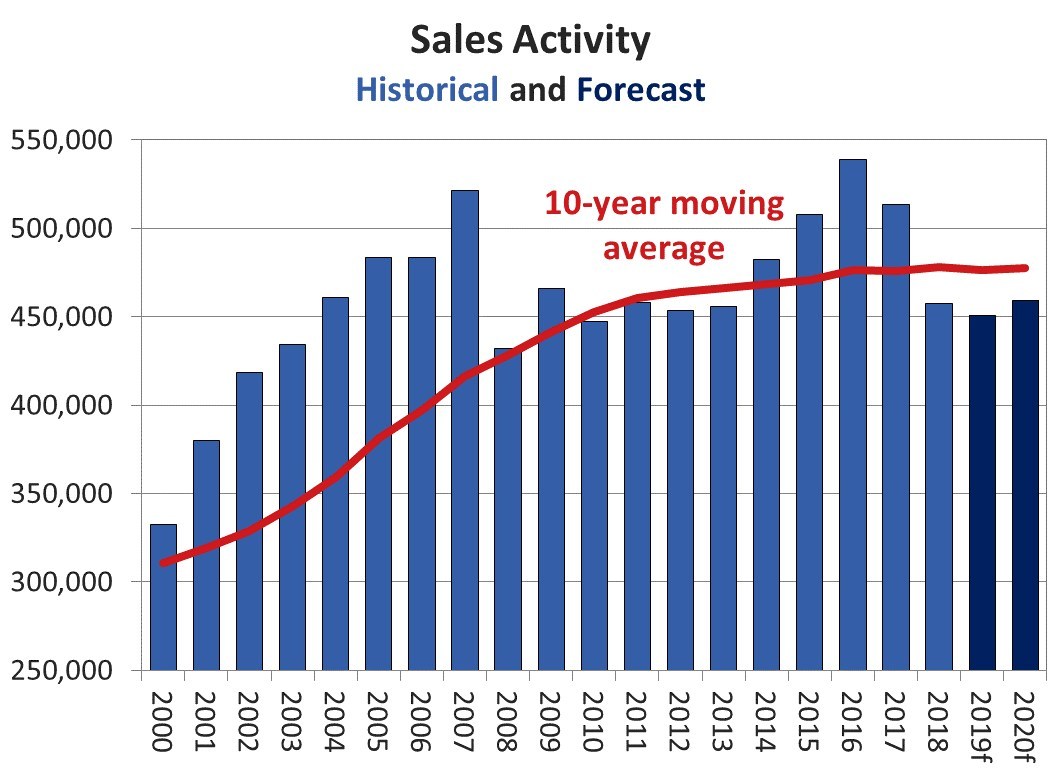 Image credit: Canadian Real Estate Association
Prices to rise
Prices in 2018 saw a 0.2% decline nationally following the previous year's 4.1% drop, the largest in 25 years; and the Aggregate Composite MLS® Home Price Index (MLS® HPI) was little changed (-0.1%) y-o-y in February 2019. That said, it still marked the first decline in almost a decade.
But there is an increase of 0.8% forecast for this year, taking the average price to $490,800 and reflecting further average price gains in Ontario, improving sales activity in British Columbia and Alberta (despite further price declines), and the combination of both higher sales and average prices in Quebec.
"The housing sector is on track to further reduce waning Canadian economic growth," said Gregory Klump, CREA's Chief Economist. "Only time will tell whether successive changes to mortgage regulations went too far, since the impact of policy decisions becomes apparent only well after the fact. Hopefully policy makers are thinking about how to fine tune regulations to better keep housing affordability within reach while keeping lending risks in check."